News
Just before the bustling crowd started to gather on the lawns of South Park in Sofia, a devoted group of artists, musicians and music professionals met up at The Steps, a tranquil café, to discuss the challenges Balkan music faces today and what MOST can offer for the region at A to JazZ TALKS.
Overcoming stereotypes, lack of information and of local management expertise were brought up as the main obstacles for artists in the Balkan region in a lively discussion, involving not only the MOST panel – consisting of Mila Georgieva, International Relations Manager at A to JazZ, Katharina Weinert, Policy Adviser to the European Music Council and Balázs Weyer, Programming Director at Hangvető – but also local music professionals who attended the event.
All participants agreed on the necessity of local artists changing their mindset. 'Bands of the region need to make efforts not only to be, but also to appear high quality musicians – nowadays publishing an album is not enough, you have to communicate your craft.' – shared Mila Georgieva, organizer of the A to JazZ Festival that offered many local emerging artists some spotlight in this year's edition.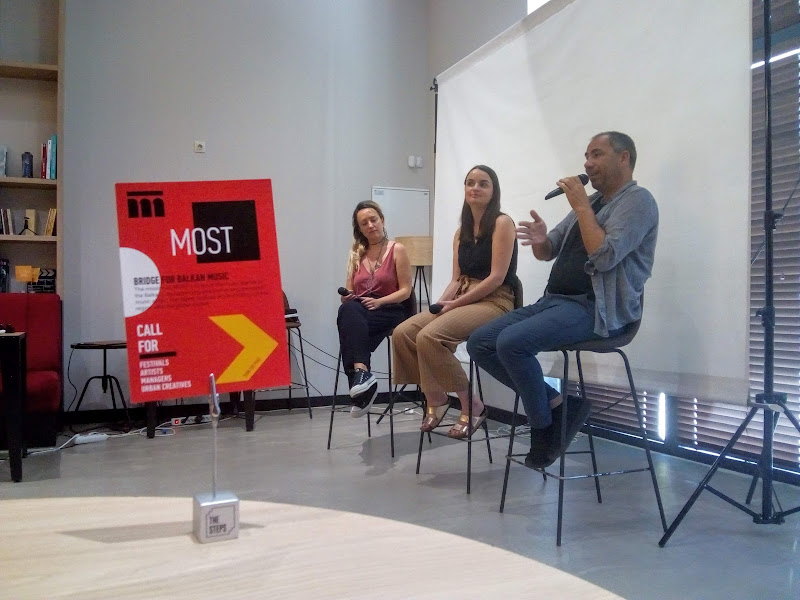 'Being more vocal on the international stage is important to lose stereotypical labels' – agreed Katharina Weinert, who also presented briefly the new European Agenda for Music, which aims to give a boost to the European music sector. When talking about capacity-building opportunities of MOST, Balázs Weyer gave some insights on the long-term ambitions of the project: 'We want to have a legacy, to have a lasting change in the context of the Balkan music industry value chain.' He expects that the alumni of the MOST project pillars – involving musicians, music professionals, managers and festivals – will forge long-lasting collaborations that can rely on a strong professional network beyond the Balkans as well.
Joining this roundtable was a special occasion for the MOST team, as it was the very first opportunity to break off the zoom boxes since our kick-off in Novi Sad at the end of 2019. The timing could not have been better. Despite all difficulties, MOST is reaching an important milestone: it is soon launching new calls for musicians, music professionals, as well as festival and music venues to benefit from refreshing cultural exchange, learning and networking opportunities. The calls will be out in September – until then you can check out here our activities.
Leaving behind the days of confinement was pretty easy in the settings of the A to JazZ Festival. People settled at the festival venue from the early afternoon with picnic blankets and hammocks and the scene gradually transformed into a pulsating festival venue, where international headliners and home-made talents shared the stage during three consecutive nights. We were happy to be part of this uplifting season opening and can't wait to see around more MOST enthusiasts in the coming months!
Featured photo: Doriyan Todorov / A to JazZ