Our partner the European Music Council have just organised their European Forum on Music 2023 – Sustain Music in Budapest, Hungary. Many of our partners were here and listening to the eye-opening panels and workshop. Topics from sustainability, gender to European funding questions were thought through exiting panels, discussions and focus groups in the House of Music, Hungary.
On Friday evening of the conference MOST partners met at the MOST Reception with concerts by two amazing MOST artists: Alice in WonderBand and Dina e Mel.
Klára Nagy, project manager of MOST and Ruth Jakobi, Secretary General of EMC opened the reception with some important messages. Ruth Jacobi highlighted how important it is to have members from the Balkans among the EMC members. MOST partner Bulgarian Music Association (BMA) have recently joined EMC and now Mila Georgieva, Vice president of the BMA became one of the board members as well.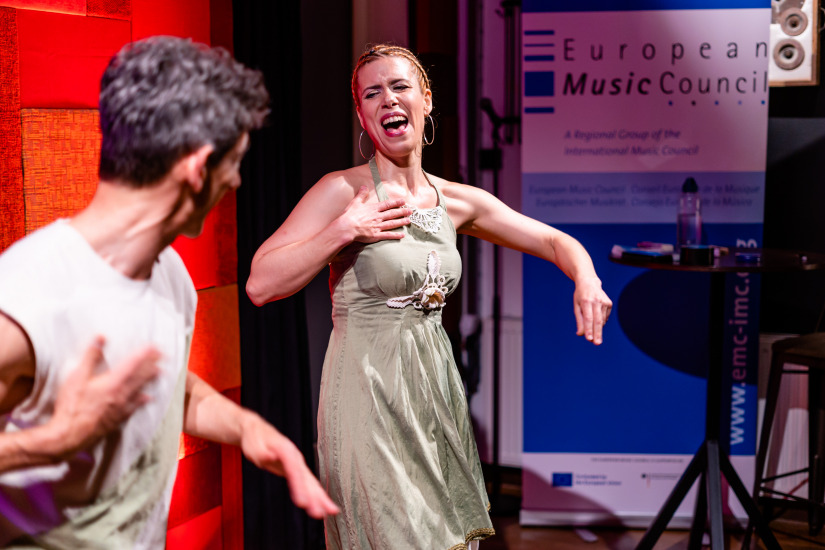 Photo by 4K Media Studio
About the music: we listened to Dina e Mel, a duo who researches and performs minority music, creating new music out of the small fragments that survived of the almost completely forgotten music of Arbresh. Arbresh minority migrated from Skadar Lake (now microlocations in Montenegro) to the area just next to the Venetian city walls of Zadar. Some of the traditional songs that survived are shared with Bosnia and Herzegovina, Serbia, Montenegro, Bulgaria and Turkey, and some are original pieces composed by Arbresh musicians. Their approach erases the current borders of the Eastern Balkans and melts together elements of music in unexpected ways.
Photo by 4K Media Studio
After the duo, another duo Alice in WonderBand created an unforgattable vibrant vibe. They are combining music from the Balkans with body music and body percussion. Their performance was crazy, powerful and energetic as always. Folksong, music, dance, and stage movement – a true journey through the Balkans to us and to Budapest.