It is hard to summarize what happened in these 3 days. We are beyond happy and grateful for all participants, artists who attended BALKAN:MOST.
BALKAN:MOST in cooperation with WOMEX was a celebration in style – over 300 delegates and more than 7500 visitors enjoyed Balkan music. In a city of 60 000, all hand-picked MOST showcases were packed, new deals and collaborations born, and headliners like Dubioza Kolektiv filled Veszprém's squares and streets to the brim.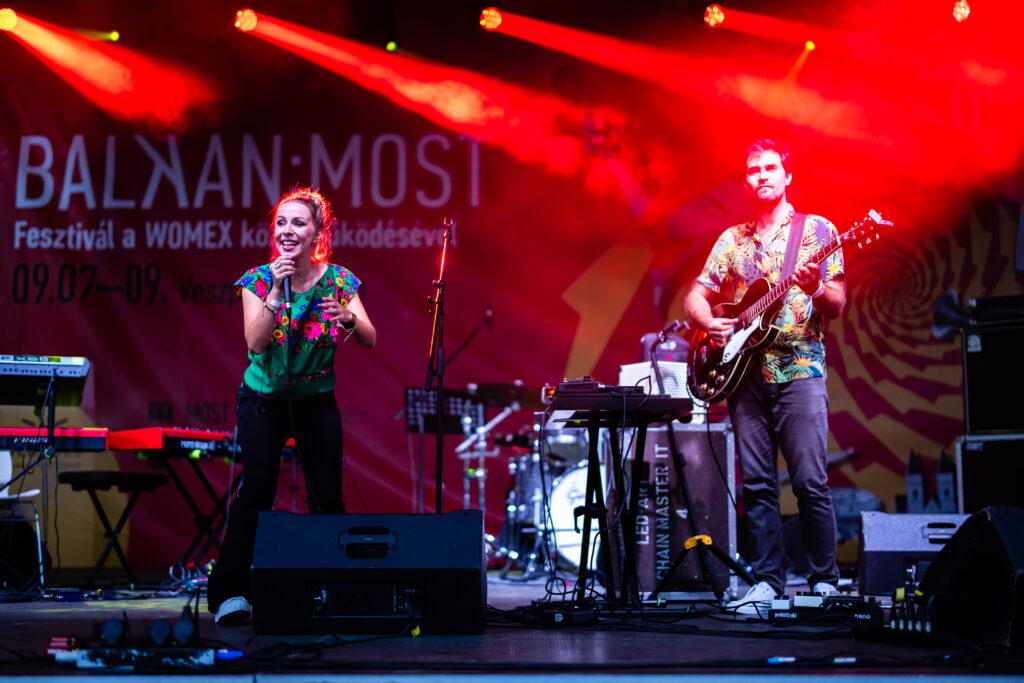 Photo by Márton Pesthy
Feedback across all tiers of the industry agrees that MOST succeeded in its mission, as Musik Woche stated. A tangible legacy of networks, recognition, new skills and personal pathways across two ends of Europe, and within the Balkans itself remain.
MOST artists took the chance to shine on Veszprém's stages: Koszika got the crowd snapping along, Zarina Prvasevda touched souls with her soaring voice, Oratnitza hyped people so much they couldn't stop dancing, and formed circles after the gig. The uncommon charm of Lenhart Tapes, Dunjaluk and other MOST acts struck many, with artists reporting great feedback and new deals budding from their BALKAN:MOST concerts.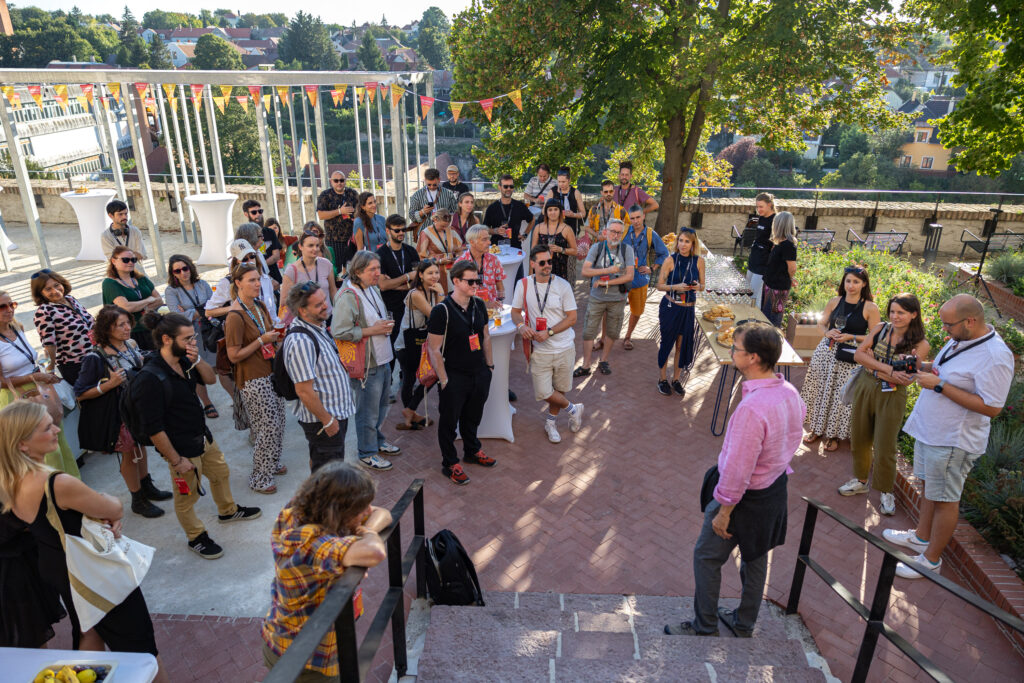 Photo by Lili Chripkó
Along the 3-day street fiesta, the conference also inspired and connected over 300 delegates and 150 MOST participants from 30 countries around the globe. Over 20 programs ranging from city walks and kafana sessions to stimulating panels and workshops engaged guests and extended MOST legacy, as unanimous feedback tells us.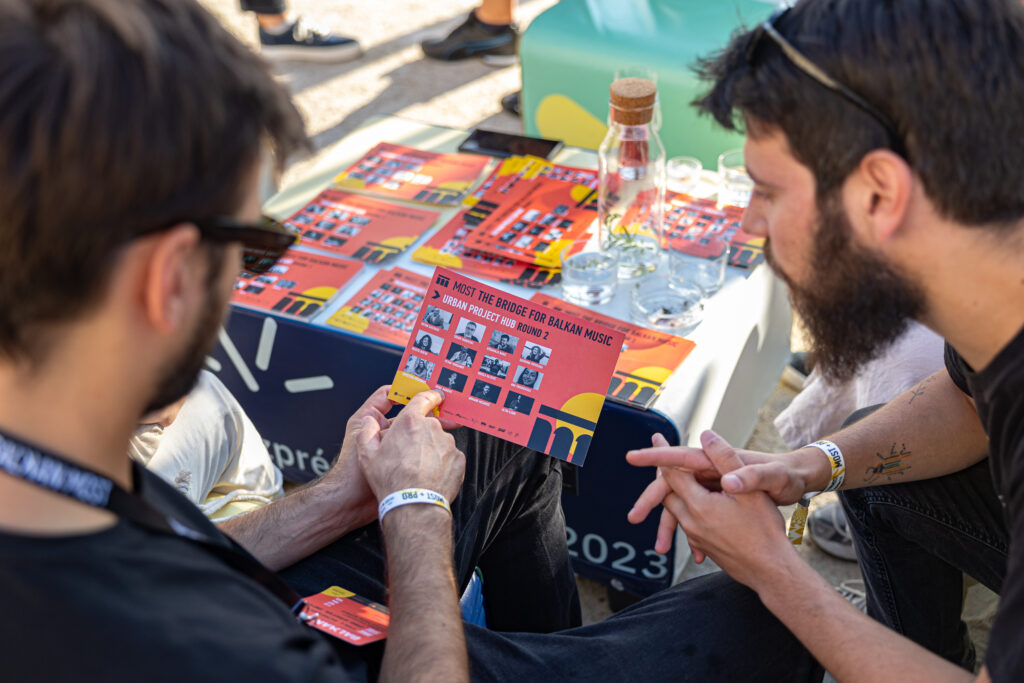 Photo by Lili Chripkó
MOST set off a new generation of Balkan musicians and professionals with closer ties to Europe, and made it all visible through BALKAN:MOST. Networks were strengthened, new initiatives born, minds opened. A sense of shared Balkan belonging emerged among artists emerged as an added extra. 
"We are hardworking but, you have to have a platform to be heard. MOST Music project was this platform for us, it really changed our stage life, the life of the band and it changed a lot for the body music as well."- Ana Vrbaski /Alice in Wonderband/
As Klára Nagy, MOST's project lead from Hangvető expressed at the project's evaluating panel:
"We have so many people here on stage and in the audience who are all related to MOST – their experiences and stories shows not only the complexity of the project, but also the professional growth it meant for each of them. As coordinators, we often felt our workload tripled due to swift changes, but we all feel we cannot stop here, that the MOST mission continues."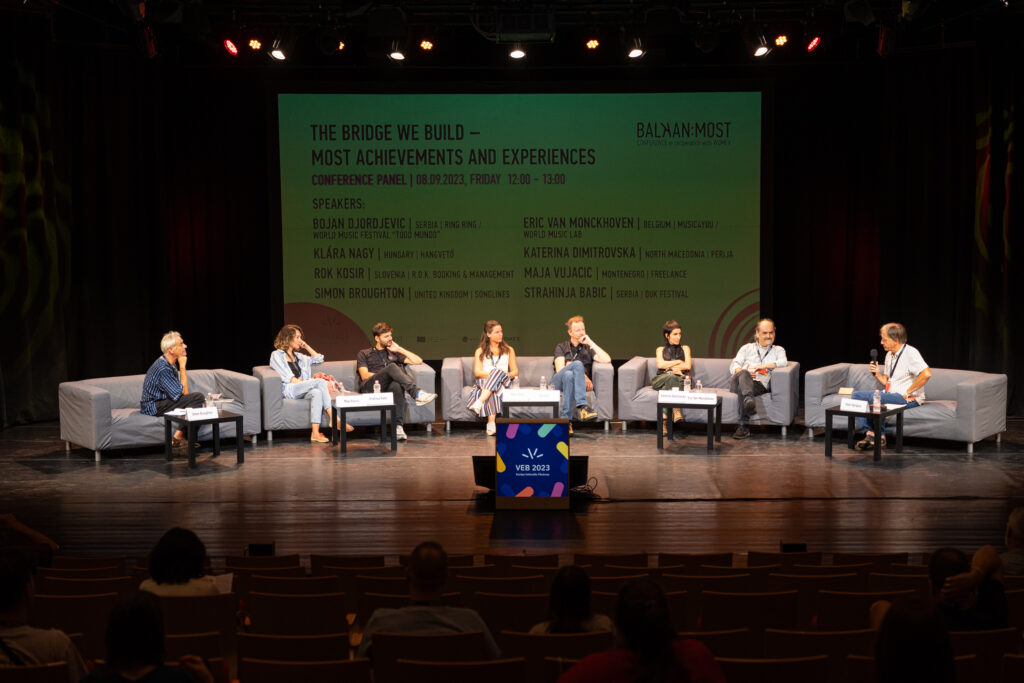 Photo by Lili Chripkó
The MOST Team did their best behind the scenes: Eszter Barna, coordinator of  Balkan Music Export Pillar attended to showcase bands day and night; Vera Vajda made sure conference sessions were running smoothly; Liza was all around along with Erzsi; while Sára Venczel and Anna Dupák kept journalists busy and entertained. All of the Hangvető powerhouse were involved, to create a celebration befitting the pioneer project.
We hope the MOST Team and all our alumni, partners, old friends and new will continue to work together and celebrate Balkan music.